I can't wait to visit it, it's a magical and inspiring city. So different from what I'm used to, which is good since I don't like what I'm used to.
Since I didn't really know what to post I thought I may share some of my favorite women-inspirations !
- GRACE NEUTRAL aka the space elf
She is a tattoo artist based in London. I've been following her on social medias for almost three years now and I've always been inspired by her art and the way she fights the stigma around tattooed people.
You can find her here on Instagram.
- ANASTASIA TASOU
One of the sweetest people I've ever heard and seen. I've been following her on the internet for a while too and her honesty has always made me more hopeful in this fucked up world.
She can bring light in your life (at least she did in mine) . Her instagram account is here.
- JENNY LAWSON
I think I don't have to say anything more. She basically helped me during the worst month last year and I'm grateful she exists and she has a
blog
.
It you ever feel down, search her blog. She has this really fucked up sense of humor and this is why I love her.
- AMANDA ABBINGTON
She is such an inspiring person, she is an animal lover and has a great sense of humor. She has played Mary Watson in Sherlock tv series and you can find her here on twitter.
- JESSIE PAEGE
She is a young youtuber with a lot of crafty ideas and pink hair.
She seems really nice and genuine in her videos. Most of my room decoration plans come from her channel, here.
- MICHELLE PHAN
She is another youtuber and beauty guru (kind of). I really like how she makes her video but I can't really say I put into practice her advices since I'm a mess when it comes to make-up. Her channel is
here
.
- HANNAH PIXIE SNOWDON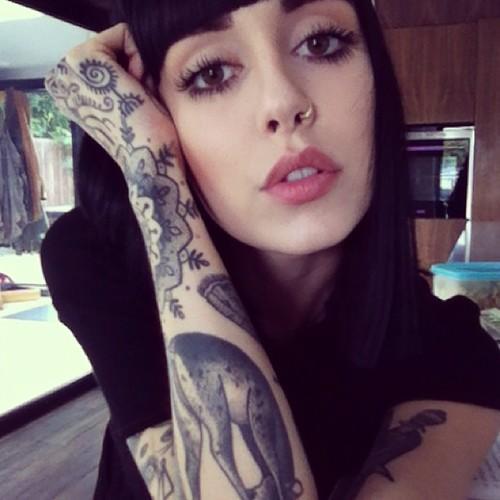 She is another tattoo artist, she introduced me (in a figurative way since we never met) to the world of tattoo artists and art in general. She is a really nice and peaceful person. You can find here on Instagram.
I think that's it for now.
I am obviously forgetting someone that I will add as soon as I realize who she is.
Have a nice day (or night, wherever you are).